Introduction and Rationale
The ultimate aim of PatientChase is to help the complex recall process of calling many patients into the clinic with multiple conditions and multiple targets. We purposefully made PatientChase patient-centric rather than target centric to reduce multiple patient contacts for each condition. Unlike EMIS and other services we excel in
merging targets together to help you prioritise on the patient rather than the target or condition
Being able to contact the patient in a variety of different media
recording this information into EMIS
In the new world we are in we are facing new ways of managing the patient. Luckily we've provided email contact via PatientChase for a long time and this blog will show you how you can utilise this media flow for your surgery. With PatientChase you can tailor make your email based on the condition the patient has and also for each outstanding target just like you can with a PatientChase letter.
A previous Blog about long term conditions spoke about general methods to virtualise Recall. This blog is practically how to use PatientChase to achieve this goal. This introduces some more advanced concepts of our product so please contact us if you need training on how to use this.
The ultimate aim is to contact patients via this hierarchy
Email -> Telephone -> Face to Face
Of course, you have to overlay the patient's ability to manage technology on this and go down the hierarchy accordingly based on this flow.
Governance around Emails
I've blogged about email consultations extensively so please refer to this for more detail
We've worked with our local GDPR representative on the back end of an email they sent explaining the current stance around communication via unsecure email with your patients and visa versa.
This is a quote from this email from him.
"In situations where there is a conflict between the principles of providing care and controlling data, the provision of care must take priority. Having said that, the practice needs to minimise the risk to data and systems integrity wherever practically possible.Practices can do this by telling patients about the system and begin to make this the norm for communicating with the patient, explaining that this keeps their data secure.If decrypting the email remains impractical when communicating with patients, practices should preferably respond to an email received from the patient within the practice e-mail system. If that is not available then the practice should check with the patient verbally where possible that the e-mail details on the patient record are correct and to use those."
The bottom line is that so long as you are sure the email you are sending will be sent to the expected individual, provision of care is the over ridding principle.
You can improve your email list by texting patients and asking them for their email on a returning text explaining about going virtual and also asking them to reply back with their email.
You should also have a system in place which removes emails in Outlook after a set amount of time as it is no longer needed and should not be stored for longer than required.
We also suggest you create a new email account specifically for recall emails.
Workflow and Outlook
As with all information coming into the surgery you need to develop a workflow to help delegate and reply to emails accordingly
Luckily Outlook is perfect for storing replying to and delegating email to users and can be easily installed on terminals who intent to manage recall. Please refer to this diagram for an idea of how it works
The idea is that one email goes out to the patient with all the relevant conditions and this is then delegated accordingly.
In Outlook you can create folders depending on how you manage your staff in your surgery. Each Folder represents a worklist for the staff to work on.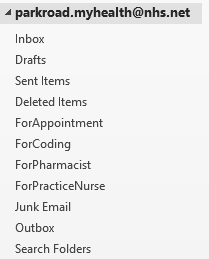 You need to sort out the email via conversation and also group them with the newest on top them otherwise the email thread may appear as separate entries which can be confusing. See this screenshot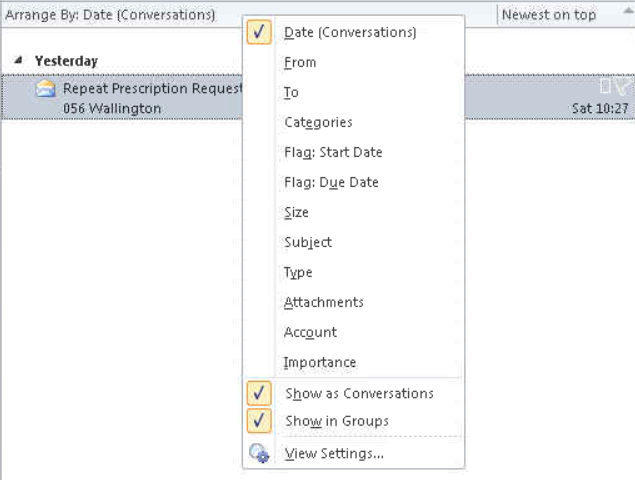 The For Appointment and For Coding Folders are for the admin to either convert the email to a face to face or telephone consultation and code the information in the email accordingly. I've created a template for EMIS for this to help the coding process enclosed at the end of this blog.
So the idea is you reply to the email from the patient and have a conversation with them about their condition explaining via for example web links to show them inhaler techniques or how to take their blood pressure properly. Once you are happy with the review, you put an entry into EMIS with the corrected coded data yourself via Templates or move to the ForCoding Folder to be actioned by admin.
Preparing PatientChase
We've automatically created a pre-prepared template for you. Goto to Advanced->Options and click on the check box which activates our email feature. If you so choose you can use these templates for letters but you might need to print out any Asthma related plans instead of providing the links.

In creating the email we are looking to create just one email per patient by merging together items which share similarities across clinical domains but at the same time add text which we'd like to know about based on the patient's conditions for example text around MRC for COPD and Asthma Control and Action Plan should only be included for only patients who have these conditions. This is where PatientChase excels
Prose
In the Prose section change all the text for the register searches just to the name of the condition
The hot text area should be [ConditionsInOneLine] which will list all the conditions separated by commas so the sentence will say "You have a history of Heart Disease and COPD" if the patient only has these condiions.
In the hot text area for [Text] only include text you which to include based on the target for example ask them to tell you their MRC score if they have COPD or give them links for the Asthma Action Plan to fill in with you if they have Asthma. All the other fields you can put the word "[null]" to ensure that any text representing this target will not be displayed
Letter Content
It's preferable to deal in html when creating the letter rather than docx. There are several free html editors which you can use to create a sample html file to use with emails. Copy and paste the raw html into a text file and save it as an html file in the PatientChase directory.
We have enclosed an example of the file which I use in my surgery which you can adapt to your purposes but we can help you with the html; just contact us. When this link opens, right click and save as into the PatientChase Directory (C:\ProgramData\PatientChaseWeb). The concept is there are several basic bits of information which we need for all patients for example smoking status but we also need to include text specific to their condition.
Don't use Images if you can but if you do you have to reference them outside from another weblink and not embed them. They can also make your email appear as spam as it is pulling data from a separate source.
If you use microsoft word to generate html you might find you loose links in the email.
Investigations
In the Investigations Tab, include text around the patient needing to record the Blood Pressure if required and also which blood tests are required for which condition. We tend to use the same text to keep it simple and if you do this PatientChase will merge the sentence so it just appears once.
Non Virtual Items
There are a few potential non virtual items which need to be managed
Blood Tests
In our area patients can go directly to the hospital without the need for a physical form so long as they include their NHS number and a form of photo id although our hospital does prefer a physical form. Check if your local area offers this and while sending the email out create the blood form. If this is not the case this can be picked up from the surgery prior to the email review with urine if required.
Blood Pressures
Patients who need their blood pressure done should be encouraged to obtain a blood pressure machine and take it at home with the correct instructions. Please refer to this excellent guide
Peak Flows
Again please encourage patients with Asthma to use their own peak flow meters and they will need it to know how to manage their Asthma within their Action Plans
Foot Checks for Diabetes and Spirometry for COPD
These require Face to face but there is no reason why they can't be worked up virtually so they just come in for these physical interactions to make the consultation operate more smoothly
Emis Template including recording of this information
Entering information into EMIS can be used via individual templates or merged templates
Alternatively you can import the template at the end of this blog into EMIS which will help the insertion of codes based on the information obtained from the email.
Pre-prepared Files required within PatientChase
This is the EMIS Template for data entry when the email has been put into the ForCoding Folder. Please import as a template into EMIS in resource publisher
Which Population to Choose
This will vary on your set up but normally users go for Month Of Birth cross referenced with Targets not done.
In PatientChase Choose a register search for the intended population. Mental Health, Asthma and Blood pressure are good areas for email. You can split these via month of birth and choose one or several months
You then do a separate Not in Target search to include only targets which have not been recorded for each condition chosen and also BP not Recorded. Not recorded tells you which patients haven't had a review since April of the current financial year
For Asthma choose Asthma Review not done

For Mental Health choose Mental Health Plan not done and BP not Recorded

For Diabetes choose Foot pulses not checked, HBa1c not Recorded and BP not Recorded
For Cardiovascular Conditions (CHD, Stroke, BP, PAD) choose BP not recorded and Cholesterol Not recorded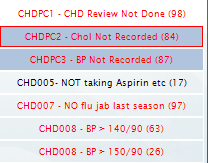 You then drag and drop the Registered search on to the Not in Target Search and deleted unselected to give you the patients who need to come in. PatientChase excludes patients who have already had their targets achieved.
For subsequent months just choose the previous month. If they've had their BP and Chol done they will be automatically excluded from the drag and drop.
Conclusion
This blog shows some more advanced features of PatientChase.
From the ground up PatientChase was designed to be used as a personalised emailer to connect to patients with the same richness as writing a personalised letter with all the complexity grasping the concept of different patients with different conditions and different outstanding targets. With us moving towards this virtual by default way of contacting patients I really proud of what we've achieved with this product.